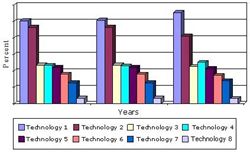 (PRWEB) May 21, 2015
BCC Research reveals in its new report on hazardous waste management that environmental issues have become tied to international trade and investment. A rapid increase in volume and types of solid and hazardous waste from economic growth, urbanization and industrialization has challenged national and local governments to ensure effective and sustainable management of waste.
The global market for hazardous waste management technologies and services totaled an estimated $ 23.8 billion in 2013. This figure should reach nearly $ 25.9 billion in 2014, the first year of a projected five-year compound annual growth rate (CAGR) of 5.5%. By 2019, the end year of the forecast period, the market should reach $ 33.9 billion.
Important changes are occurring, partly due to external economic or social forces that affect the hazardous waste management industry. Such external forces include regulative and legislative frameworks, source reduction and pollution prevention programs and initiatives, economic constraints due to recession or competition, and new developments in treatment technology and disposal
Pollution prevention strategies and legislation along with economic recession in some parts of the world have reduced the volume of hazardous waste over the past five years. However, large amounts are still being produced at industrial sites and in densely populated areas of the world, says BCC Research analyst Nikos Thomopoulos. The population increase along with urbanization trends and continual generation of industrial hazardous waste has presented a demand for safe transportation, handling, storage, processing, treatment and environmentally safe disposal.
Key market drivers include increasing hazardous waste, growing environmental concerns (which lead to stricter legislation globally), greater energy conservation and production from waste including hazardous waste, and lower costs in nearly all industry sectors (which stimulates growth of recycling and reuse programs).
Hazardous Waste Management: Technologies, Services and Global Markets (ENV028A) analyzes the global market for hazardous waste services and equipment. The report, which also examines trade and investment, provides forecasts for major market segments through 2019.
Editors and reporters who wish to speak with the analyst should contact Steven Cumming at steven.cumming@bccresearch.com.
About BCC Research

BCC Research publishes market research reports that make organizations worldwide more profitable with intelligence that drives smart business decisions. These reports cover today's major industrial and technology sectors, including emerging markets. For more than 40 years we've helped customers identify new market opportunities with accurate and reliable data and insight, including market sizing, forecasting, industry overviews, and identification of significant trends and key market participants. We partner with analysts who are experts in specific areas of industry and technology, providing unbiased measurements and assessments of global markets. Recently selected as the worlds greatest market research company, BCC Research is a unit of Eli Global, LLC. Visit our website at http://www.bccresearch.com. Contact us: (+1) 781-489-7301 (U.S. Eastern Time), or email information@bccresearch.com.
FREE this week at our disposable email store:
Not Authenticated: 0093d4e2bd2fff2ce36683bf4e608030065ab3dfe774408be60e56410852fd90219523598f0a8b933f5fa7b6a4d48909e57d4d052585bbc7680a918de6a1b3b627/481cc3d227b4a14ff834f2402860bf8c89f84e939828d8558bced5805b0367a7cab89e52c5f7bc59e16a66527f754d9cab8f0e769f164871cf23422271a05a71