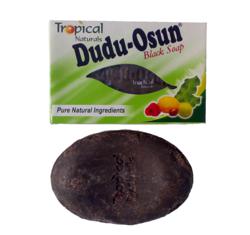 Chicago, IL (PRWEB) June 28, 2013
Ginika is offering a huge discount sale for Dudu-Osun natural and organic face and bath soap this summer season. Dudu-Osun natural and organic face and bath soap together with the moisturizing and healing pure and unrefined African Shea butter are very effective for every skin type from the toughest to the most sensitive skin. Pure Organic and Unrefined Shea butter by Ginika is very effective in the treatment of most skin conditions, and is a proven effective natural sunscreen during the hot summer season. When used, dry skin, hair, hands, feet, and so on, are new again within seconds. Dudu-Osun Natural and Organic Face and Bath Soap exfoliates and deeply cleanses as it works to rejuvenate and heal the skin.
Ginikas Dudu-Osun Black Soap is an excellent choice for the skin. Thanks to its all-natural tropical ingredients like Shea Butter, Aloe Vera, Pure Honey, Osun (Camwood), Palm Kernel Oil, Cocoa Pod Ash, Palm Bunch Ash, Lime and Lemon juice, this luxurious natural herbal soap has been the best selling African Black Soap since its introduction some years ago. This luxurious natural and organic herbal soap is very excellent and works perfectly for all skin types. The name Black Soap comes purely from its color (brownish-black), which is due to the all-natural tropical ingredients used in the making of this soap. Ginikas Dudu-Osun Natural and Organic Face and Bath Soap possesses many curative and healing properties as well as enhance the appearance and feel of the skin. It relieves all major skin problems like body odor, eczema, acne, pimples, blackheads and many more. Once using Dudu-Osun soap (and Shea Butter), results on the skin are noticed immediately. This natural and organic face and bath soap contains no artificial colors, no preservatives, and is bio degradable.
Along with Pure, Unscented and All-natural African Black Soap, Ginika also carries Dudu-Osum natural and organic liquid skincare products (Dudu-Osum black soap-liquid, Dudu-Osum natural Shampoo, Dudu-Osum raw Shea butter lotion, and Dudu-Osum natural and organic massage oil and moisturizer).
Visit ginika.com store today and take advantage of the ongoing summer season discount sale. Pamper your skin in ultimate comfort and nourishment this summer for less. All purchases are processed and shipped within 24hrs of the order and are delivered to the customers door (via USPS Priority mail or UPS ground/air) within just a few days. Ginika is here to serve and provide the very best in natural bath and body care products.
FREE this week at our hot mail store:
Not Authenticated: 0093d4e2bd2fff2ce36683bf4e608030065ab3dfe774408be60e56410852fd90219523598f0a8b933f5fa7b6a4d48909e57d4d052585bbc7680a918de6a1b3b627/481cc3d227b4a14ff834f2402860bf8c89f84e939828d8558bced5805b0367a7cab89e52c5f7bc59e16a66527f754d9cab8f0e769f164871cf23422271a05a71
Find More
Hot Mail Press Releases
Originally posted 2013-07-01 04:00:02. Republished by Old Post Promoter